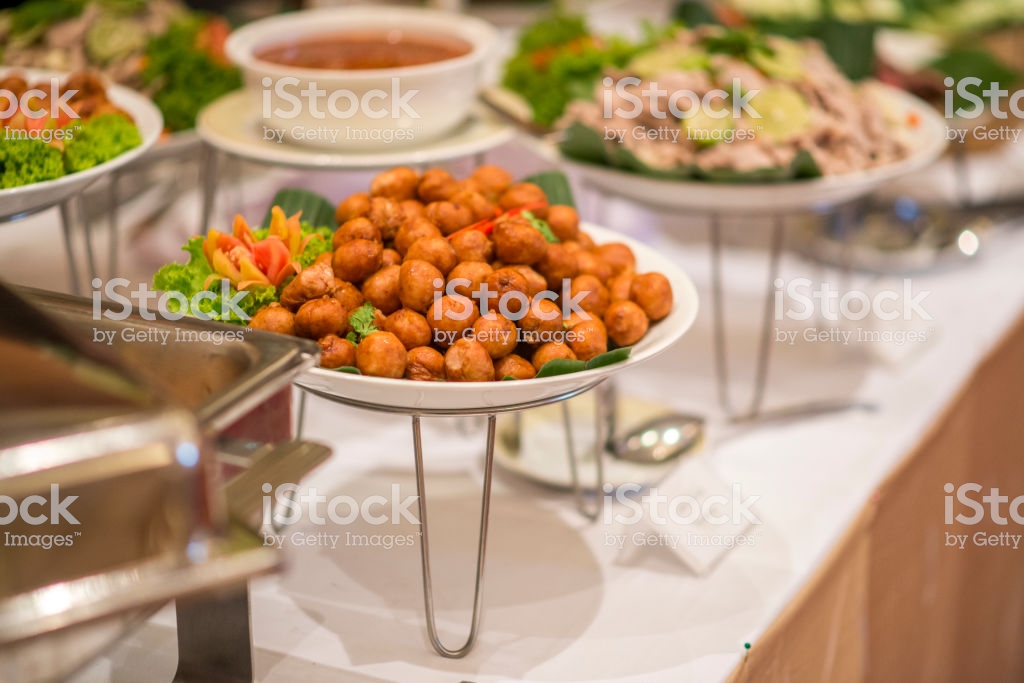 I don't know about you, but my three favorite things about a wedding are 1.Celebrating the couple 2.The beautiful decorations and 3.The Food. I can't dance the night away at the reception without some good food to keep me energized! Tasty appetizers, meals, and of course deserts make guests very happy and are always a memorable part of the special day. Below are a list of fantastic caterers and delicious food options at a variety of price points, and a few tips to save some money. Bon Appetit!
Sam Sneads: This place is a family favorite of mine. They offer pretty reasonable price and delectable appetizers and entrees! My personal favorites are the wonton inspired appetizers called "Niblicks", so good! Call 407.622.8800 or click here.
4 Rivers Smokehouse: This classic barbeque restaurant is a great option for wedding catering. Along with good prices, they offer amazing meals and deserts so you can get all of your food from one place. Easy and delicious! Call 844.4RIVERS or click here.
Puff n' Stuff: This is a great option because this place is made for catering. As they state on their website, they work with your planner and provide everything that comes with food from table clothes to bar service. They have a plethora of options and everything is guaranteed to be delicious! Call 407.629.PUFF (7833) or click here.
Heartsong Cookies: I can not speak well enough of these amazing cookies! I fount out about this amazing vendor at my local farmer's market, and since then I have taken product pictures for them and gotten to taste manyyy of their delicious treats! Ms Kathy (AKA "The Cookie Lady") is the sweetest and will no doubt make cookies that are the finishing touch to your special day. Call 407.256.3622 or click here.
Little Blue Donut Truck: This cute little truck makes the most delicious gourmet donuts in Florida! Such a great catering option in your event, or you could even have the truck visit your reception to create a fun way for the guests to satisfy their sweet tooth. They have so many unique flavors and are opening up a shop in Winter Park, FL soon! Call 407.575.0103 or click here.
Chick-Fil-A: This one may sound a bit funny, but who doesn't love Chick-Fil-A? Why spend tons of money on overly fancy food when you could get delicious chicken nugget platters that kids and adults will no doubt love! When you think about it, this really is the perfect option for affordable food that's quick and easy! Call your local Chick-Fil-A or click here.
Money Saving Tips:
Stick to Appetizers! Don't worry about serving huge meals. Instead, try serving lots of filling appetizers that guests can dig into and then get back to the dance floor!
Skip on Servers! Just set out some tables full of platters of food. This saves a lot of money and avoids guest searching for a waiter to get some snacks from.
Make Your Own! If you want to, go potluck style and have relatives bring over family favorites. If not for all of the food, at least some to cut down on spending and add a personal touch to your wedding cuisine.
Written by Katherine Murphy